Online-training: Tarot cards
Fortunetelling through Ryder-Waite Tarot cards
You can do a fortunetelling training course individually or in a group. There are as many as 6 participants in a group. Full-time training is provided in Barcelona, Spain. Online training is also available. It can be carried out both individually and in a group of 4-6 people. Distant learning of fortunetelling technology can be done through messengers, Skype, and other communication channels.
To check if the training system is appropriate for you, you can take a free trial lesson!
Peculiarities of group training:
One stage takes 30 hours.

The course includes 10 lessons. One lesson is 3 hours. The timing is from 18.00 to 21.00. The schedule includes 2 or 3 lessons per week. Specific days are negotiated with the group.

Training at the weekend. Lessons are held from 12.00 to 15.00 on Saturdays. The course includes 10 lessons.
The procedure of individual training:
total training at one stage takes 24 hours;

the course is divided into 8 lessons, each lesson lasts 3 hours;

the training schedule is agreed upon with a student.
After studying the material, students take a qualification exam. If it is successfully passed, and the material is fully mastered, they receive an International Certificate. Students also receive the qualification "Consultant-tarologist".
Information on Tarot cards and fortunetelling through these cards
The essence of Tarot cards
Tarot cards have been known for over 5 centuries. They are popular in Western countries, and they are used for fortunetelling, studying current situations, and analyzing the past, revealing the causes of events and predicting their development. Their exact origin is unknown. There are different versions, all of them are covered with a touch of mystery and mysticism. One popular version runs that their essence is close to Kabbalah and Ancient Israel doctrines. Others believe that the roots should be sought in the doctrines of ancient Egyptians and their book of wisdom.
The Tarot deck includes 78 cards. Cards are divided into 2 parts:
Minor Arcana - 56 cards. In their turn, they include subgroups such as Cups, Wands, Swords, and Pentacles.

Major Arcana – 22 cards. They correlate with myths and legends of different nations, show heroes' adventures, and their heroic deeds.
There are 14 cards in each suit. These are court cards, i.e. Knight, Page, King and Queen, and 14 number cards. Many of us are familiar with them through regular cards, they are cards from ten to ace. Tarot cards created in the 20th century are most often used for fortunetelling. These are Thoth Crowley and Ryder-White's decks.
Our masters have extensive experience with Tarot cards. We carefully treat ancient traditions and have developed unique proprietary techniques. The course consists of theoretical and practical lessons. The training includes 2 stages. At the first stage, students study Major Arcana of the Tarot deck, at the second stage, they grasp the intricacies of Minor Arcana. Our course is based on practice, skills, and a detailed study of theory. It contains systematized information ready for learning. Our masters provide explanations in a clear and image-friendly manner, they are attentive to their students. The limited number of students in groups allows them to master the material well and work it out in practice, ask questions, clarify all ambiguous points.
The fortunetelling can be used for your self-development, intuition training, clarifying situations in your private life. You can also become a professional in this field, consult other people, and offer fortunetelling services. You will be able to do this officially after doing this course and passing the exam. You will receive official confirmation of your knowledge and skills - a certificate and qualification of a consultant in the field Tarot cards.
Ryder-Waite Tarot is a system popular all over the world!
Touch upon the roots of ancient wisdom, mystery, and dawn of the universe! Using Tarot cards, you will thoughtfully analyze your past, understand which actions and events have led to the current situation. You will be able to understand yourself better and realize the motives of your soul and subconscious. You will become more conscious, learn to anticipate the consequences of your actions, choose the best scheme of action, influence your future, ensure the optimal development of events, and create favorable processes. Tarot cards allow you to discover the true essence of things, as they are filled with a deep inner sense.
The program of the first course stage
The first stage is devoted to studying Major Arcana. The topics to learn are:
The history of Tarot cards. The versions of their origin, the reasons for their appearance and popularity. Using cards in modern conditions. Different types of decks, their features, and applications.

Fundamentals of using cards. The rules of choosing a deck suitable for you personally, its acquisition, application, storage, initiation, and cleaning. How to use the cards safely for yourself and the people around you.

The perception of a card. Meditating, projecting, describing, studying, and feeling.

The concept: Card of the Day.

Arcana meanings. The interconnection of Arcana, Kabbalah, and astrology.

Features of their figures, colors, and numbers.

Studying all Major Arcana. Meanings that each card has in straight and inverted positions. The connection of cards and a person's development along his or her life path. Advice on health, love, business, finance, career, and social relationships.
Each Arcana is studied in maximum detail. The following scheme is applied in training:
where the name of Arcana and its image comes from, what changes it underwent over time, the meaning of its symbol;

general meanings of Arcana in fortunetelling;

possible events that they denote;

influence on love, family status, and personal life;

describing situations connected with health, medication, and recovery;

using cards to describe the psychological peculiarities of a person, his/her personal features and personality development;

interpretation of advice, warnings, and explanations;

their final role in prognosis and fortunetelling;

their role in "yes-no" fortunetelling;

meanings and interpretations of Arcana in straight and inverted positions. Major Arcana from zero to VII, from VIII to XIV, from XV to XXI, zero Arcana, from I to X, and from XI to XXI are considered separately.
Next students study the following topics:
possible spreads;

a correct and clear formulation of questions and requests;

working with spreads, studying their logic and essence;

fortunetelling blocks;

fortunetelling

for private purposes.
Each theoretical issue is worked out in practice.
The contents of the second course stage
The second course stage comprises the following topics:
Ethical norms and rules a tarologist should observe not to make harm to themselves and customers.

Nature, a combination of suits and elements, how to read the resulting spread, taking into account the elements.

Minor Arcana. Fundamentals of explaining Minor Arcana meanings in a spread and in relation to the Sephiroth Tree. The meaning of each Arcana for business, career, health, love, and psychological features of a person. Straight and inverted positions. Possible spreads, including those for psychodiagnostic and karmic laws. Number card meanings of suits: Wands, Cups, Swords, Pentacles, straight and inverted position meanings for each suit. Practical training of the acquired knowledge.

Studying Court Cards or Court Arcana. Interpreting cards and meanings of their straight and inverted positions. The meaning of a selected card, small and large spreads for making a prognosis. Preliminary diagnostics, small and big spreads, the spread of Twelve houses. Court card meanings of suits: Wands, Cups, Swords, Pentacles. Working this material out in practice.

The scheme of consultations, psychological aspects.

Using different decks and peculiarities of working with them.
Next students master different spread options:
a current situation, its analysis and development options;

love, family relations, communication with relatives and children;

professional activities, career, and entrepreneurship;

Karma, fate, and human destiny;

analysis of magic impacts;

individual spread based on the proprietary technique;

personal spread.
Then there are practical lessons with a full deck. Based on the results of studies students take a final test.
Seminar-workshop
We also offer you a seminar-workshop on the topic "Ethics of a consultant-tarologist's working behavior." Not only will the seminar be useful for tarologists, but also other specialists consulting in different spheres. It will improve specialists' skills, their proficiency, and allow identifying, meeting customers' needs as well as raise the demand for services. The seminar is to be paid separately. It is a part of the course to get the qualification: Consultant-tarologist.
The program of this seminar-workshop includes:
Fundamentals and principles of conducting consultations. The rules of interacting with the magic system.

Classification of customers, techniques of working with them. The behavior of different customers, their goals, reasons for visiting a tarologist, and the best ways of meeting their needs.

Customers' requests. Active communication with them, dialogue, and identification of their needs. The ability to percept customers' requests and reveal their unconscious needs.

Scheme of a consultant's behavior in case of an unfavorable spread.

How to work with customer's goals.

The use of psychological techniques.
Karpman drama triangle, studying its sides. Applying the theory in consulting.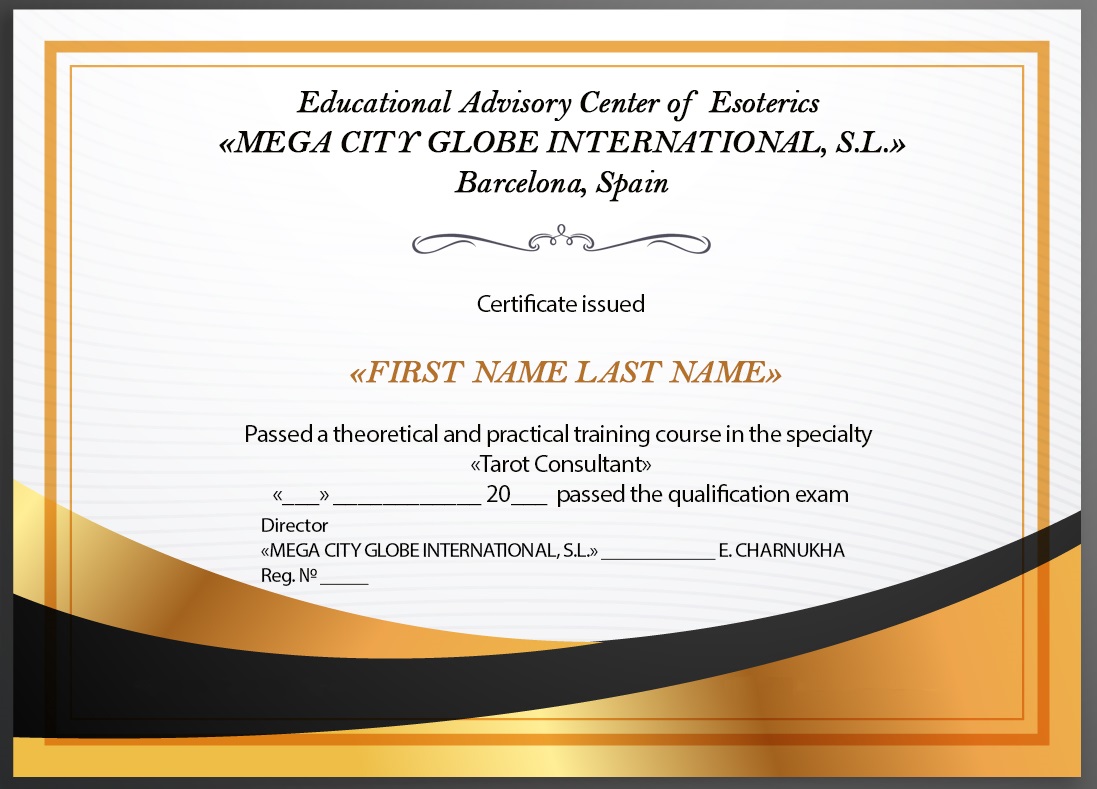 Address:
Provenca–Diagonal station, Barcelona, Spain.
E-mail:
Get in touch